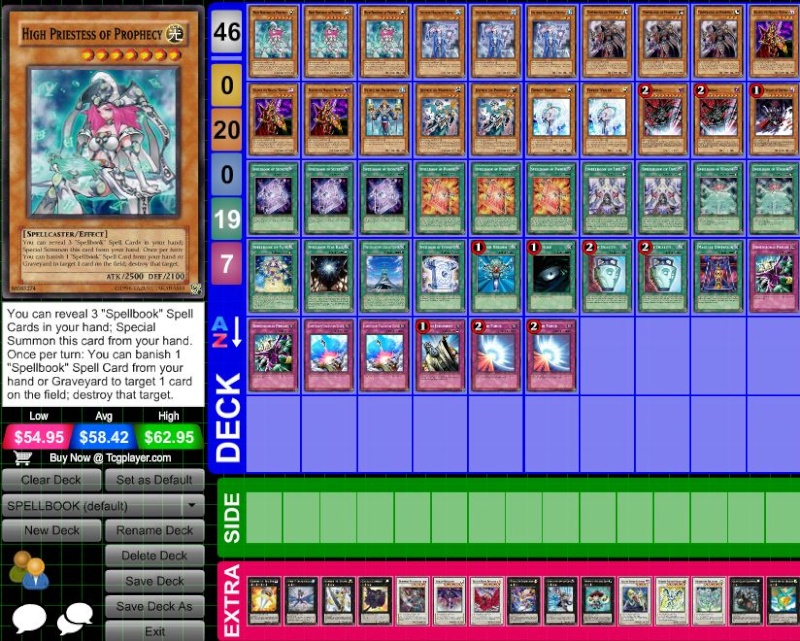 in order from left to right
x3 high priestess of prophecy
x3 Spellbook magician of prophecy
x3 Temperance of prophecy
x3 breaker the magical warrior
x1 Stoic of prophecy
x2 justice of prophecy
x2 effect veiler
x2 Tragoedia
x1 Gorz The emissary of darkness
x3 Spellbook of secrets
x3 Spellbook of power
x2Spellbook of life
x2 Spellbook of wisdom
x1spellbook of fate
x1 Spellbook star hall
x1 The grand spellbook tower
x1 Spellbook of eternity
x1 monster reborn
x1 dark hole
x2 pot of duality
x1 magical dimension
x2 dimensional prison
x2 compulsory evacuation device
x1 solemn judgment
x2 Mirror force
Found this deck on a site its pretty good i changed a few of the cards around
btw not listing extra deck cus it sucks and needs a lot of work :I



Posts

: 9


Points

: 4633


Reputation

: 0


Join date

: 2012-12-27



first of all you need to cut down the deck by at least 3 cards a_a second of all i would suggest you add 1 or 2 spellbook towers.
also add the third life. spellbook of fate is kinda bad as it removes on of your spellbook's and there are already alot of cards in your deck that do that but if u do decide to put it in run more eternity's and maybe more other cards to bring them back. if you dont know anything to get rid of get rid of all the traps and put 1-2 decree instead as long as you dont cross the 43 border. thats pretty much all i have to say in this e_e the rest could all work.
Admin




Posts

: 31


Points

: 4670


Reputation

: -1


Join date

: 2012-12-28


Age

: 21


Location

: idk hehe






Posts

: 9


Points

: 4633


Reputation

: 0


Join date

: 2012-12-27



If you're gonna run fate, you need another eternity. Like really bad.

Also, not sure how much you need that magical dimension. Sure it's nice and all, but you can already bring out your powerhouses with temperance, and blow stuff up with her, and you might wanna drop star hall for another spellbook tower.

And lastly, I would suggest going either trapless, or decree only, to cut down deck size. I have no idea what I'm talking about with this deck, but I hope this kinda helps.
Admin




Posts

: 24


Points

: 4658


Reputation

: 0


Join date

: 2012-12-27


Age

: 26


Location

: Uhh...good question.



I would just take out the 2 compulsarys and the magical dimesion to make it 43 cards
rest of it looks fine

_________________

Admin




Posts

: 42


Points

: 4698


Reputation

: 1


Join date

: 2012-12-27


Age

: 22


Location

: Miami, Florida





Similar topics
---
Permissions in this forum:
You
cannot
reply to topics in this forum